Foam Compounds / Foam Powder / Roto Foam Compounds
We offer different formulations for foam compounds depending on the product applications and processing window.
We have three grades –
1. EF -01 : General tank grade
2. EF -02 : Insulated containers ,pallets
3. EF -03 : Underground tanks , Insulated containers
"EasyFoam EF-Ol"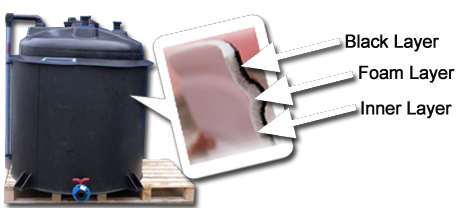 Ready to use LLDPE based foam compound formulated with a blend of Chemical Blowing Agents suitable for rotational moulding.
The grade EasyFoam EF-01 is specially blended to match moulding conditions of Multi Layer Water Storage Tanks.
Advantages :
Insulation : Excellent Insulation Properties.
Light Weight : Higher Stiffness at lower Cost.
Composite Layers : Strong Bonding Between Layers.
Easy Process : Use Existing Equipments.


Applications :
Multi Layer Insulated Tanks, Underground Tanks, Ice Boxes, Pallets, Furniture Products, Marine Products , Fish Boxes, Floats & Structral Products.
Appearance

:

Yellowish Polymeric Pulverised Powder

Grade

:

Easyfoam EF-01

Carrier Resin

:

LLDPE

Properties

:

Regular Fine Structure
Better Surface Appearance
Direct Doses

Recommended Dosage

:

50% to 100% of the weight of foam layer

Recommended Process Temp.

:

215 - 230 oC

Packaging

:

25 Kg